As a custom computer builder we understand that configuring a custom system can be confusing. This is why we offer so many preconfigured system options for our customers.
On the same note we don't want anyone to feel limited in what they can design so it is a constant balancing act of offering enough to accommodate most customers, while working to not overwhelm people with options.
Whether you would like to buy a pre-configured kit, customize a kit, or piece together a system entirely from parts CPU Solutions has the expertise to work with you as your custom builder.
This is where our "
Submit a Quote
" feature comes in handy for many customers.
If you have custom configured a kit or individual parts for an order, but are unsure of whether they will be compatible or cause performance issues, simply submit your quote to CPU Solutions and we will have our support technicians review your order to make sure there are no issues with the configuration.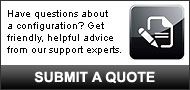 Many customers simply prefer to submit a quote and have someone double check the parts they have selected since computer hardware changes so quickly.
Whatever the reason, don't be shy. Our support staff is standing by, ready to help answer any questions you may have.
To submit a quote, click the "Save Quote" button on the "Customization" screen in a kit.
When you are prompted, log into your account or create one if you do not already have a login.
On the "Saved Quotes" screen click on the "Submit Quote" button to the right.
This will submit your quote to our support experts to review and get back to you.
During this time you will not be able to modify the configuration until a support expert has reviewed the quote and sent it back to you.
Once this is done you will receive an email with any suggestions on the configuration or a confirmation that all your hardware is compatible.
Once you receive the email you will be able to edit the quote again in your account.
If you have any additional questions please feel free to contact us.